A Gentleman's Guide to Semi-Formal Attire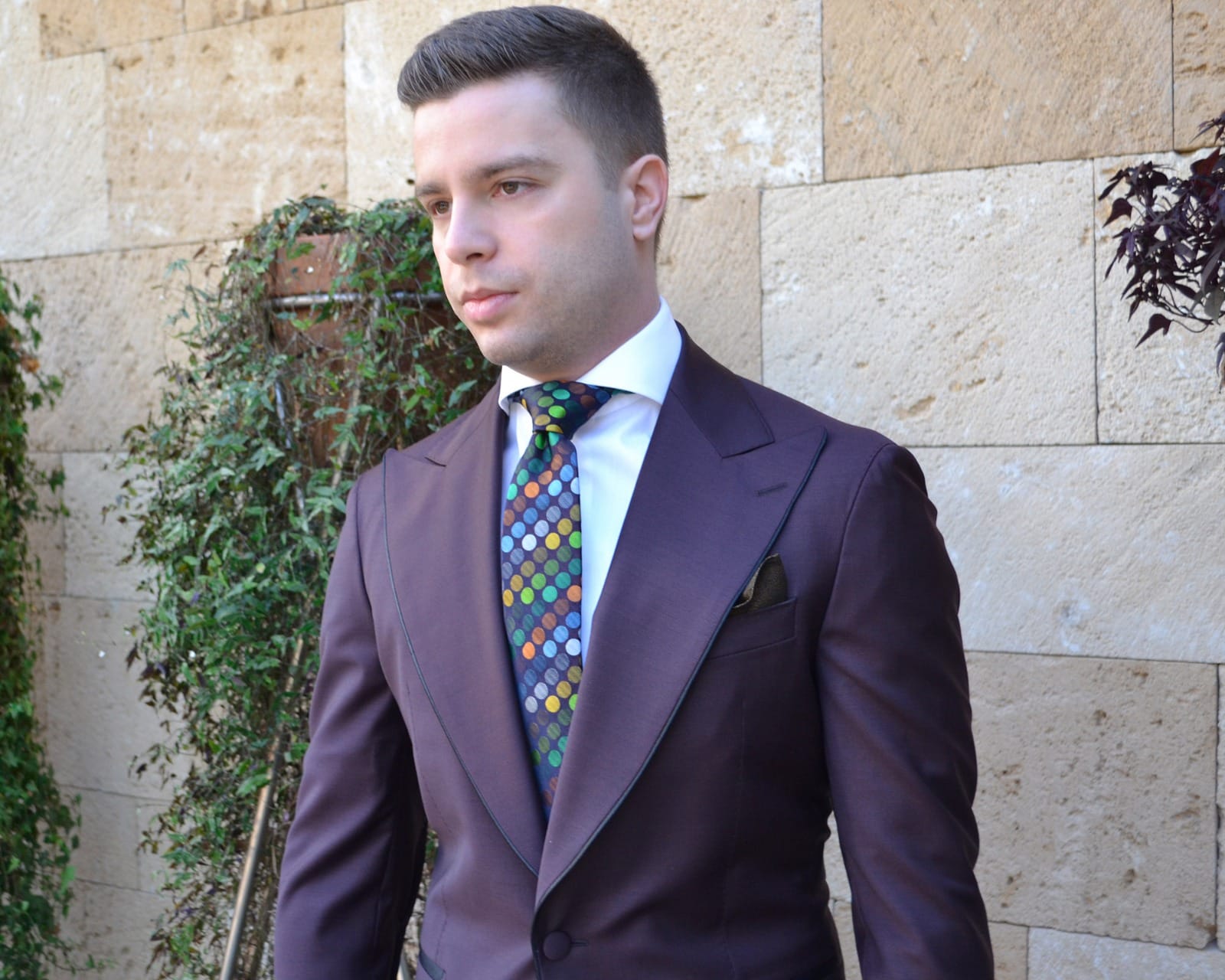 A semi-formal event is the perfect occasion to wear your favourite suit which isn't ceremonial. Open collar or tie is optional depending on what the event is and how close you are to the host of the event, especially if you're attending a wedding. A darker coloured suit is always the safest option for an evening event, alternatively you can dress according to the seasons; dark earthy tones such as black, charcoal, French navy, burgundy or deep brown represent the Autumn/Winter seasons.
⧪⧪⧪⧪⧪  SEMI-FORMAL ATTIRE  ⧪⧪⧪⧪⧪
The Suit
Lighter colours such as sky blue, olive, camel and light grey are suitable options during warmer climates such as a Spring/Summer which embodies the season of rebirth and vibrant colours. In this scenario we advise siding with a suit constructed from worsted wool as it is much lighter, softer, and finer than woollen fabrics which would be worn during the winter season.
Also, honorary fabrics we love to dabble with are linen and linen blends such as cotton and linen to reduce the heavy creasing, worsted wool and silk provide the summer luxury feel and look to your outfit that you probably knew you needed so much until you try it.
Sensational Winter colours which always leave good impressions are charcoal, burgundy, French navy, or mahogany brown.
If you call for something to accord with the fashion laws of the Winter season, then gravitate towards fabrics which will keep you warm such as a tweed fabric. Tweed fabrics tend to be thicker as it is made by treating three different coloured yarns together to form a distinct pattern, overall, the result is thicker, warmer than worsted wool.
A twill is a great option to consider for a winter suit also, its textured look and feel provides a luxury to your outfit and will do the job well as a winter suit.
If you're after a different feel from wool, then opt for a moleskin cotton fabric, this is perfect for winter as it retains heat far better than worsted wool while also providing breathability as its content is high in Cotton, not only is it warm but also durable.
If you're purchasing off the rack and require some adjustments (let the tailor decide), then alterations are a crucial element to ensure your outfit is superb and is well balanced to your height, size, and posture.
⧪⧪⧪⧪⧪  BEST SUITS  ⧪⧪⧪⧪⧪
| | | | |
| --- | --- | --- | --- |
| VINCENT & FRANKS VFFGI764 TEAL LINEN BLEND SUIT | VINCENT & FRANKS VFFJG806 OLIVE SUIT | VINCENT & FRANKS VFFGI607 BLUE SUIT | VINCENT & FRANKS VFFGG969 GREY SUIT |
The Shirt
Any collared shirt is suitable to match your outfit if they keep a consistent theme.
White is the safest option if you want to avoid experimenting with different colours and styles and stay in your comfort zone, if you want to avoid formality then a standard cuff rather than a French cuff with a bib is something to avoid.
If you want to slightly spice up the outfit, then a textured white fabric for the shirt is a beautiful way to style up your suit or a black shirt will provide a sleek and modern look.
Otherwise, a great way to pick your shirt is to find a shirt with different tones, the secondary colour of the shirt can be matched with the primary colour of your suit, or the primary colour of your shirt can be matched with secondary colour of your suit.
⧪⧪⧪⧪⧪  TOP PICKS  ⧪⧪⧪⧪⧪
| | | | |
| --- | --- | --- | --- |
| VINCENT & FRANKS NAVY SLIM SC SHIRT | ETON WHITE SIGNATURE TWILL SUPER-SLIM SC SHIRT | ETON NAVY-BLUE SLIM SC SHIRT | VINCENT & FRANKS FUCHSIA LIBERTY PRINT SLIM SC SHIRT |
Footwear
Footwear is entirely optional from loafers, derbies, and oxfords to choose from, brown or black is appropriate to your preference; we recommend black. As black is a more versatile colour and carry more formality, they will also bounce off every colour outfit you match them with.
Fashion stores in Sydney should all have no issue catering to these needs when in search of the perfect semi-formal outfit in men's clothing. Semi-formal attire is an excellent option for wedding suits for men who aren't directly related to the bride and groom which don't want to opt for a ceremonial getup.
⧪⧪⧪⧪⧪  FOOTWEAR FOR MEN  ⧪⧪⧪⧪⧪
| | | | |
| --- | --- | --- | --- |
| LOAKE SMITH BLACK GOODYEAR WELTED TOE CAP SHOE | I MASCHI 2908 PLUTON TAN BROGUE LACE BOOT | VINCENT & FRANKS VW21VF SUEDE CHLSEA MORO BOOT | ANTICA CALZOLERIA 801-C GREY SUEDE DRIVING SHOE |
Alternatives
If you've been searching the world for your ideal suit/outfit and cannot find anything close, custom-made suits are a viable option to consider, alternatively known as made to measure suits, this service entails a luxury only imaginable to the off the rack customer. Having the freedom to choose your fabric, lining, and entire construction/design of your suit, you can bring to life the outfit you always imagine yourself wearing.
If you're also in need of a new corporate uniform on a day you have a promotion or just want a new business suit, then the semi-formal dress code is the perfect style to inherit for this occasion.
Hopefully by the end of this read you have decided on your outfit and can confidently choose something for the next outing or work related event.
VF would love to hear from you and see what your choice was!
DM us or tag us in your post!
Your journey tailored by us,
VF