Learn About The White-Tie Dress Code And How VF Will Get You Ready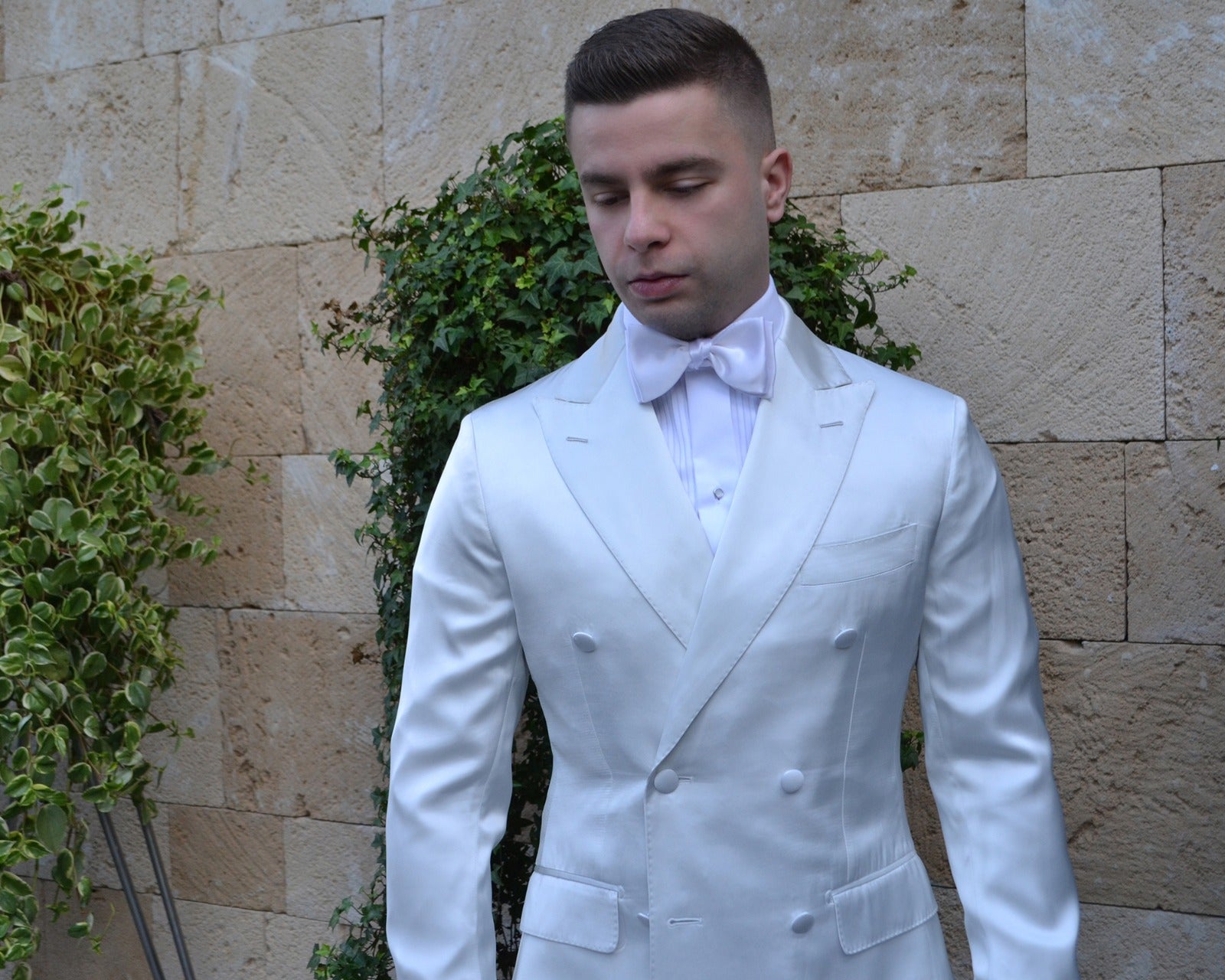 The white tie was formerly a common dress code for high society parties, but it is now only worn for the most formal occasions, in most cases a wedding, livery ceremonies, balls and royal ceremonies.
The occasion usually is exceedingly important to have this dress code, and the guests are usually wealthy or renowned. If you receive an invitation to a white-tie wedding, imagine a British royal wedding. You should wear a white bow tie, as the name indicates. A white evening waistcoat paired with a black evening tailcoat is required for men.
This guide will ease the anxiety of the strict regulations and dress requirements and be in control of the entire process, this blog will be looking at the fundamentals of the white tie formality.
⧪⧪⧪⧪⧪  WHITE TIES  ⧪⧪⧪⧪⧪
| | | | |
| --- | --- | --- | --- |
| SELF TIE IVORY SILK BOW | SERGIO ALVAJEE WHITE ITALIAN SILK TIE | PAISLEY SELF TIE IVORY SILK BOW | IVORY ITALIAN SILK TIE |
The Full Evening Dress
You may have heard this term in your invite or are haring it for the first time now, either way – it may freak you out and sound alien to you. The term is quite simple and may relax you to know it only requires you on the evening to ensemble a white evening waistcoat, which sits slightly above your pants slightly exposing your shirt, this low cut design is intended to reveal as much as possible the formal shirts elegant bib you have chosen to decorate.
The jacket must be a black evening tailcoat, this means the construction differs from a morning coat as it is made with more of a straight cut to the back towards the tail as opposed to a circular forming morning coat. An evening tailcoat must always be a peak lapel and be nicely constructed to your body, if you choose not to have a bespoke suit then a made to measure suit is a great option to ensure a beautifully constructed suit compliments your posture.
Alternatively, if you are able to find an evening tailcoat off the rack, ensure it is altered by a master tailor or inspected by one while you try it on to guarantee it is the right fit for your body and no adjustments are required.
A shirt is everything when bringing an outfit together, especially for formal wear, a crisp white winged collar French cuff is required. Pleated or piqué bib is recommended to accentuate the formality of the event, a texturised shirt will play up the requirements of white-tie attire.
Your shirt buttons should be replaced on the body with shirt studs, mother of pearl is advised to bring about the details symbolizing the white tie evening and complimenting your bowtie, also double up with matching mother of pearl cufflinks to beautifully bring together the whole attire with the small finishing touches.
Followed by an elegant large teardrop pure white silk bowtie, it is imperative that your bowtie is hand tied and can be done beforehand by a tailor or men's stylised (complimentary inhouse service by VF).
A game changing ingredient to your so far high-class aristocratic outfit, your shoes are an essential aspect of how this outfit comes together, so VF recommends one thing and only one thing… Patent.
Patent leather boots are a seriously underappreciated style people consider until they try on a pair for themselves, this inspiring style will have you turning heads and full of compliments. This point of difference will stand you out in a subtle and appreciated way.
Oxford or Derbies are a excellent choice too for black patent, the classic look will always be a forever favourite and will always be a guaranteed safe choice.
Alternatives
If you're having trouble finding tailcoats in fashion stores in Sydney, consider bespoke or made to measure suits to bring together a sensational construction to accentuate your posture and tones – the beauty of a custom made suit is unique character you give yourself and the message it sends in the room once you enter. Bespoke suits are 100% customizable to your liking from the cut, fabric, lining, buttons, and overall look.
There you have it, the complete step by step guide of the white tie fundamentals and what to consider when planning to create a presence for yourself with your highly knowledgeable eye for men's fashion.
If you have any further questions, contact us now via email or phone and tag us in your social media post so we can see what outfit you decided to go with!
Your journey tailored by us,
VF